Monday, February 05, 2018
Hey there, crafty friends! It's Taylor here today and I'm super excited to begin sneak peeks of our February Release! The weather has been swaying between bitter cold and freezing cold for several weeks so getting crafty with this month's new products with an Easter and Spring theme has put a smile on my face!
If it's been a while since you've tuned in here, then one of the things you must know about is our Crafty Points Loyalty Program! For every $1 you spend you get one crafty point and every 20 crafty points = $1 off a future purchase! With each new release, we have a special promotion where you can earn double points on a specific product or group of products. This month it's the Floral Frenzy Bundle! If you're like me, then there's no such thing as too many flowers and this unique set of both outlines and fills is a sure favorite!
So when you purchase the Floral Frenzy Bundle between February 8th – 11th you'll earn 100 Crafty Points! And in case you missed it above, the new products will be available for purchase starting Thursday, February 8th at 9am CST at the TE webstore!
Shall we get on with the new reveals for today? First up, is a product collection I'm super excited about! I love designing multiple products that can be used separately or work together to create even more options for your card projects! Here's a card that I made using the Squishy Hugs collection of products:
I created a quick video to share a little bit more about these products and how they were designed to work together. Bonus: the video features a second (more simple) project idea using these three products.
Before I move on to the next project, I just have to mention that marshmallow peeps are one of my all-time favorite candies! I think they're a polarizing food though because when I mention this to others I'll either get a "ME TOO!" or "ICK…. NO THANKS!". Weigh in with your opinion on marshmallow peeps in my Question of the Day at the end of this post! Oh… and have you ever frozen them? That's how I like to eat them!
The next sneak peek features another one of my favorite Easter treats… jelly beans! This set was designed to work with our Mason Jar Shaker stamp and coordinating die, but I love how Gayatri used it so cleverly without the jar!
The great thing about this stamp set is that the die was designed to cut all nine of the jelly beans at one time so you can easily cut lots of shaker filling with a few quick trips through the die cut machine.
Next up is another treat that's perfect for an Easter basket, but wait… it's not edible! Can something inedible actually be considered a treat? I love my sweet treats, but in this case, I think this qualifies! Jean created these adorable EOS lip balm gifts using the new Bunny Pop die set:
Plus you can shop this entire project from the comfort of your couch by picking up a few of the EOS lip balms right at the TE webstore. We're offering this selection of pretty pastel balms in yummy flavors Blackberry Nectar (purple), Sweet Mint (teal), and Coconut Milk (pink).
Next up on our list of Easter/Spring themed goodies is the adorable Quick Critters- Spring Stamp & Die Combo. Our original Quick Critters were so popular, we've followed up the set with Quick Critters – Winter and now a Spring themed version. We call these Quick Critters because they don't require any coloring. Simply die cut the body from cardstock and stamp the appropriate face.
With the addition of our On the Right Track dies last year, I thought it would be perfect to re-release one of our previous fan favorites as it's the perfect pair for creating slider cards with the track dies.
If you've been a long-time TE fan, you'll want to check your collection before you add this one to your cart since it was originally released a couple years back. If you already have it, then grab the tracks and make a slider!
Last (for today), we have a new set of Pierced Stacklets designed to work with a previously released shape. Just layer the Pierced Egg Stacklets on top of the solid Egg Stacklets to create evenly spaced pierced holes perfect for stitching or string art projects!
So there you have Day 1 of sneak peeks! Can't wait to share more with you tomorrow! In the meantime, I'm continuing my Question of the Day to me a chance to learn more about you and give you a chance to win a prize!
As I alluded to above, my question of the day is… Marshmallow Peeps… Love 'em or Hate 'em? Take 'em or Leave 'em? I mentioned that I like to eat them straight out of the freezer. Anything else I should be trying with this gooey goodness?
Today I'm giving away all three products in the Squishy Hugs Collection!
Leave your comment before Wednesday, February 7th. One comment per person. Each comment will also be entered into our Grand Prize drawing for a $50 gift certificate! Winners will be chosen at random and announced on the TE Blog on Thursday, February 8th. Make sure you check out what the rest of the design team has been up to with today's featured products!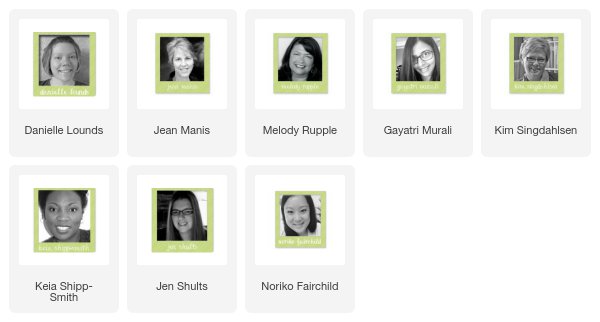 ---