Wednesday, February 07, 2018
Hello there, crafty friends! It's the final day of sneak peeks before all of the new products are available for purchase at the TE webstore. Set your alarm for 9 am Central time tomorrow for the big launch! I've really enjoyed the pastel palette on display this week. We could certainly use a touch of spring after more than six inches of snow fell on Monday. It was beautiful, white, fluffy snow, but still….. SNOW. Ugh.
This week I've been making sure you know about our special Crafty Points promotion so here it is again in case you missed it! It's only available for a limited time so if you're planning to get the beautiful Floral Frenzy stamp set and coordinating dies, now's the time to do it! Several design team members are sharing additional projects using this stamp set today and I'll have one more of my favorites to share a little further down in your scroll.
To start today, I'm excited to share a bit more about a fun collaboration with an amazing company; Blue Chair Blessing. I met Emily several years ago and immediately fell in love with the cutesy style of her illustrations (and her!). You may recognize her work in your own collection as she illustrated previously released favorites like Party Monsters, Love Train, and the lovable pets in our Pawsitively Purrfect collection. Since the early days of her TE illustrations, Emily has honed her amazing talent and grown her own business – Blue Chair Blessing – to include gorgeous hand-lettered Bible verses and encouraging reminders of God's love featured on everything from canvas art and apparel to scripture cards, mugs, and more. I'll admit, a good portion of the walls in our home feature Emily's artwork. Oh… and I have a mug and a couple t-shirts, a set of mirror cards, and a desktop flip book. So… you might say I'm a big fan. *grin*
So you can imagine my excitement in bringing some of my favorite verses from Emily's collection into the form of rubber stamps! Here's a look at my first set of notecards using Words of Faith and the Petite Petals background:
I recorded a video to share how I transformed the background image with one of those supplies that can be easily forgotten. Thankfully, I was able to dig mine out of the drawer and put it to good use!
With Easter on the horizon, I also wanted to add to the Iconic Wishes collection with an image of the cross featuring a variety of names for God. This set includes both the positive and negative stamp images along with the coordinating die.
As I mentioned above, I've picked out another one of my favorites using the Floral Frenzy stamp set and coordinating dies. I love the bold, bright colors Jean chose and how she combined this with another one of my favorite new products – the Floral Frame Cutting Plate.
And because one project with the Floral Frame Cutting Plate simply isn't enough, check out this beauty! Noriko die cut the design several times, adhering one on top of the other to build it up, and then poured our Vanilla Creme shaker filling into the open spaces.
Over the last year, we've explored the popular Sitting Pretty series for almost every season and occasion. I'm so glad you liked the concept originally inspired by the ledges that hold frames and decor in my own home! We're rounding out the Sitting Pretty collection with one final addition; Spring Accessories.
Last, but certainly not least, I've had so many requests for coordinating dies for our fabulous collection of Big Blooms. You asked… we listened! Now there's a coordinating die for each of these gorgeous images.
So that's it for our last day of sneak peeks! Hopefully, you've seen something you love over the last several days! All of the new products will be available for purchase starting tomorrow morning, February 8th, at 9 am Central time. Before then, check out my Question of the Day and leave a comment for one more chance to win a prize. The lucky winners will be announced here on the blog tomorrow.
My Question of the Day is… Of all the products you've seen this week, which one is your favorite? Leave your answer before Wednesday, February 7th at 8 pm Central time. One comment per person. Each comment will also be entered into our Grand Prize drawing for a $50 gift certificate! Winners will be chosen at random and announced on the TE Blog on Thursday, February 8th.
Today I'm giving away the Floral Frame Cutting Plate!
You definitely don't want to miss out on the amazing projects our talented designers have been working on so click on the beautiful faces below and if you get a chance, leave 'em some love!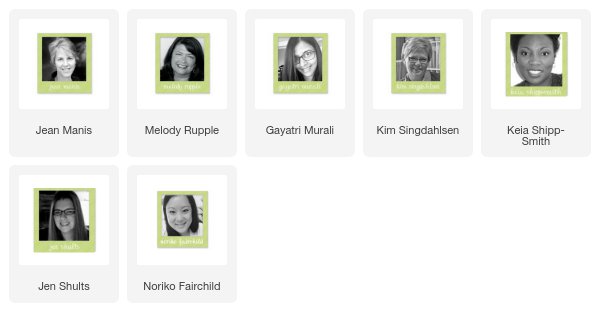 ---