Tuesday, May 01, 2018
Hey there, crafty friends! Today is an exciting day as we add a brand new product to the Taylored Expressions collection; 100% wool designer felt! Over the years we've become known for our high quality 100% wool felt for creating textural elements on your cards and other craft projects. It's especially exciting to add high-quality glitter and foil felt to the mix! I've been working with this sparkly, shimmery, shiny goodness for several weeks and my first impression is WOW! It's so pretty! I also have some important tidbits to share with you. Check out this video for all the info:
If you didn't watch the video, it is important to note that the glitter and foil are applied to one side of our 100% wool felt. The glitter and foil application results in a thicker piece of felt so there are some important notes regarding die cutting our designer felt. Please read the chart below to make sure that your specific dies and die-cutting machine will cut through the glitter and foil application.
And now for some inspiration! Today I have a few projects to share that I've created using the designer felt and you'll want to tune in all the way to the end for two very special offers! I'll also be back the rest of this week to share more inspiring designer felt projects from the Creative Team.
First, I created this fun set with a coffee cozy and a matching card – all ready to gift to a special friend! I started with our free coffee cozy template, traced it onto our regular wool felt and cut it out. Then I used the Bloomin' Stacklets 3 and Bloomin' Accessories die sets and some of the new designer felt (Sweet Mint, Berry Patch, and Caramel Drizzle) to create the flower embellishments for the front of the card and the coffee cozy. In putting this project together, I determined that there is such a thing as too much glitter so I paired the new glitter felt with some of our regular felt for more contrast.
I want you to be able to recreate these for yourself or as a gift for a teacher or friend so we're offering 40% off the Bloomin' Bundle which includes the two die sets I used on this project! Click HERE or on the image below to add the item to your cart. Offer ends Sunday, May 6th at 11:59pm CST.
Next up I have a shadowbox project that I made using our new Roll With It Flower dies. These two dies are our newest additions to our Mixed Media collection of dies which means they're BLACK in color and will cut perfectly through this felt with any die cutting machine. I also must mention that this project was heavily inspired by this gorgeous shadowbox that Noriko created. Her version is bigger and 10 times better so you must make it over to her blog to check it out!
I cut the Roll With It flowers from an assortment of glitter and regular felt and then used a glue gun to put the flowers together. Stay tuned tomorrow for a quick how-to video on assembling these fun 3D flowers. They are super fun and a little bit addicting! I have several more already assembled and waiting for inspiration to strike!
The monogram was cut from white vinyl using our Initially collection of dies. Such a fun way to add a personal touch to the project! Wouldn't this make a fun teacher gift!? I already have plans to make another one for Madi's Kindergarten teacher.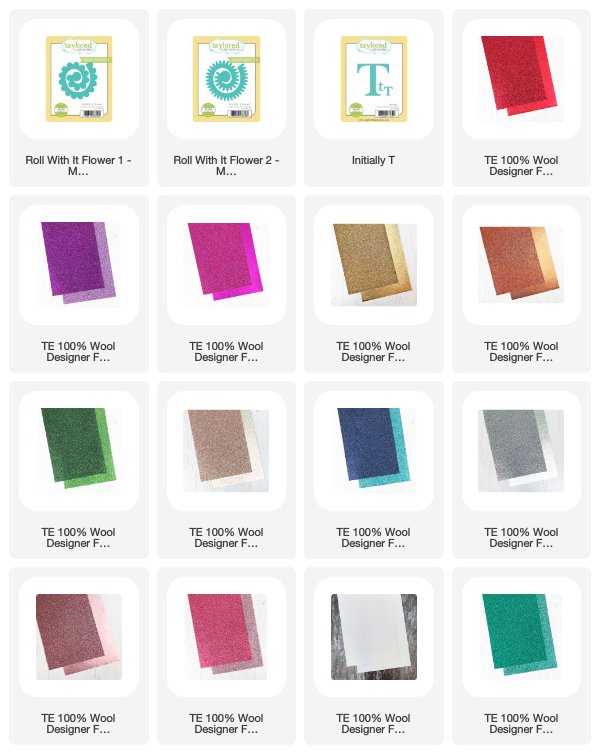 And because I REALLY want you to try out this gorgeous felt, I have one more special offer! We're lowering our free shipping amount from $75 down to $25 through the weekend! So that means any order over $25 ships FREE (within the U.S.). Sorry international friends – I too wish the shipping wasn't outrageous!
Thanks so much for stopping by today! See you back here tomorrow for more designer felt inspiration!
---