Monday, June 04, 2018
Hey there, crafty friends! Happy June! I love June for so many reasons; the kids are done with school, it's finally warm outside, there's usually a good amount of rain (I don't like the thunder & lightning, but the rain is calming), plus we celebrate our wedding anniversary and my birthday pops in mid-month! Aaaand… if that's not enough to pack into one month, June is also a RELEASE month! The Creative Team and I have been busy designing projects using the most fabulous collection of tropical products and that's where I'm going to start today's release countdown! Altogether we have over 30 new stamps & dies, 2 new cardstock/ink colors, the continuation of our collection of stencils, and a brand new product… LIQUID WATERCOLOR! I'm so excited I'm shouting again! *hehe*
Before I get started with sneak peeks, I want to make sure you know about our Crafty Points Loyalty Program! For every $1 you spend at the TE webstore you get one crafty point and every 20 crafty points = $1 off a future purchase! With each new release, we have a special promotion where you can earn double points for a specific product or group of products. This month we're offering double points when you purchase our new collection of Liquid Watercolor!
When you purchase the Liquid Watercolor collection between June 7th – 10th you'll earn 134 Crafty Points! All of our new products will be available for purchase starting Thursday, June 7th at 9am CDT at the TE webstore!
So let's started by learning a bit more about this new product! Our initial launch of Liquid Watercolor includes 12 colors specifically formulated to match a rainbow of our most popular cardstock and ink colors! Plus, we're throwing in the game-changer… a bottle of shimmer liquid that can be added by drop to ANY of the colors to achieve a built-in shimmer paint. Check out the video I recorded to share a little more about the properties of our liquid watercolor, the variety of colors, and the difference between our ink pad refills and the new liquid watercolor.
I've been playing with the liquid watercolor for a few weeks and had so much fun creating color-washed backgrounds, coloring images, and messing with different color combinations! I stained a few of my shirts (messy crafters unite!), but it was worth it in the name of creativity! *giggle* One of the first things I tried was a single-color washed background and I liked it so much I turned it into a card using our new O-fish-ally Awesome stamp set:
I'm not sure I could have fit any more onto this card! If anyone was counting, I used 6 die sets, 1 stamp set, 2 stencils, new liquid watercolor, 2 new ink colors, glitter felt, and glimmer paste! It was so much fun to see it come together. I started by creating the background using a Cookie Monster color wash on watercolor cardstock. When it was dry, I laid the Bubbly Stencil over the top and stencil brushed with our new Blue Raspberry ink. Then keeping the stencil in place, I used a palette knife to apply Moonstone glimmer paste over the stencil to make the bubbles glittery.
Now would be the perfect time to show you the two stencils I used on this project along with the two new ink and cardstock colors we're debuting with this release:
Next up, Jen Shults shows off our two new colors, Here Comes the Sun Stencil, and the liquid watercolor using the Tiki Time Stamp & Die Combo and Tropical Florals stamp set with coordinating dies sold separately:
I am in love with this card! First, I think the two tiki's that Danielle drew for this stamp set are adorable! Pair that with the two new colors, a fun stenciled background, and Jen's flawless watercolor on the image and I'm swooning!
Continuing on with the tropical theme, it wouldn't be complete without a hula dancer. Here's a card I made using our Do the Hula Stamp & Die Combo with a unique set of stencil strips t0 create the cloudy background and our new Aloha Script die and coordinating backer. I also incorporated flowers from the same Tropical Florals stamp set that Jen used on her Tiki card.
I mentioned above that I used a set of unique stencils on this card. This month we're introducing our Set the Scene Stencil Strips in both clouds and waves! Each package includes three separate strips designed for creating the inked background that you see on the above card. I'll have a video sharing how to use the stencil strips later this week!
Here's a look at how Jean used the Set the Scene – Waves stencil on her O-Fish-Ally Awesome card. So many possibilities for these stencil strips!
I have one more new stencil design to share with you for this month's release! And lucky for me, Jen used it beautifully along with our newest addition to the Big Blooms collection… Big Blooms – Hollyhocks:
You'll notice the Rise & Shine stencil used throughout this release in super creative ways! When it was being designed, I envisioned it as an eclectic sunrise, but I love it when the creative team gets their hands on the products and comes up with so many other combinations and uses for them!
Next up, I have two new tropical background stamps to share with you. They work in combination with many of the products I've already introduced today. Both cards below show the backgrounds in combination with the Tropical Florals stamp set with coordinating dies.
So there you have Day 1 of sneak peeks and I'm already looking forward to sharing more with you tomorrow! In the meantime, I'm continuing my Question of the Day which gives me a chance to learn some of your favorites and gives you a chance to win a prize!
My Question of the Day is: If you were planning a tropical vacation, where would you go? P.S. I'm asking this question selfishly as I'm starting to look into tropical destinations for our 15th anniversary trip for this time next year. Never too early to start getting ideas! Leave your comment before Wednesday, June 6th. One comment per person. Each comment will also be entered into our Grand Prize drawing for a $50 gift certificate! Winners will be chosen at random and announced on the TE Blog on Thursday, June 7th.
Today I'm giving away the winner's choice of 3 of the newest stencils!
Make sure you check out what the rest of the Creative Team has been up to with today's featured products and we'll see you back here tomorrow for more sneak peeks!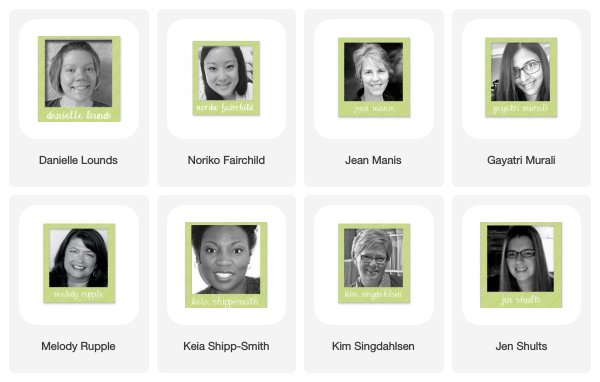 ---