Tuesday, June 05, 2018
Hey there, crafty friends! It's Day 2 of our release countdown and today is all about summer eats and treats! I love food; all kinds of food, but mostly sweet foods like candy, cookies, cupcakes, brownies, donuts (are these things even considered food!?). As you might already know, my love of food extends into our color collection as we've given food names to all of our colors. YUM! It makes stamping even more delicious!
I promise we'll get to the deliciousness soon, but first I want to make sure you know about our double points promotion that extends through Sunday on purchases made at the TE webstore. As a member of our Crafty Points Loyalty Program, you will receive 1 crafty point for every $1 you spend. Once you've accumulated 20 crafty points you'll receive $1 off a future purchase! With each new release, we have a special promotion where you can earn double points for a specific product or group of products. This month we're offering double points when you purchase the entire collection of our new Liquid Watercolor!
So when you purchase the Liquid Watercolor bundle between June 7th – 1oth you'll earn 134 Crafty Points! You'll want to mark your calendar or set an alarm on your phone to make sure you don't miss the launch of all of our new products on Thursday, June 7th at 9am CDT at the TE webstore!
Let's start today's peeks with a couple cards and a video I recorded featuring the Chill Out collection! You might remember a similar concept we released for Easter called Block Party – Bunnies. Well, it was so popular that we decided to continue the concept into the summer months with Block Party – Popsicles! The three products below were combined together on the above card along with our latest 6×6 paper pack; Hello Sunshine.
Popsicles also remind me of the 4th of July (bomb pops, anyone??) so I decided to use the same grouping of products with a sentiment and fireworks to make this 4th of July card:
Take a look at the video I recorded to explain more about this collection and show how easy it is to align both the row of faces and the popsicle accents using the MISTI alignment tool. I love how easy and fun our Block Party dies are to use and the popsicles are a great addition to the Block Party collection!
Continuing on with summer food, is anyone in the mood for s'mores? We have a couple new products that are sure to start you drooling for that ooey-gooey goodness. There are so many things to love about a summer bonfire – the warm air of a summer's eve, the crackle of the fire, the smell of smoke – and just to be clear, NOT the mosquitoes, but now I'm getting picky. I'll endure any bonfire with mosquitoes if there's also s'mores!
Kim Singdahlsen & Noriko Fairchild took these products for a spin and came up with the two cute cards you see above. After seeing these, I'm heading to the grocery store to buy those giant roasting marshmallows!
And last, but certainly not least, who are the vegetable growers among us? While they're not the sweet treat I typically go for, I do have a few favorite vegetables including zucchini and cauliflower, but I'll have to pass on tomatoes. I do love fresh salsa though as long as the tomatoes aren't chunky! Can you tell I'm a picky eater? *grin* To celebrate the season for veggies, we have an adorable new set of veggie-rific characters called Turnip the Beet:
Keia Shipp-Smith paired the turnip and the beet with a new background stamp (which I'll tell you more about tomorrow!) and our previously released Little Bits – Record! Funny tidbit – as the sentiments were coming together for this set I tried out "It's Your Birthday… Lettuce Turnip the Beet", but I ended up eliminating the word 'lettuce' since there's no lettuce image in the set. Someday it would be fun to share more about the many itterations of a stamp set before it goes to final production! Sometimes it's one or two rounds of edits and sometimes it's many more than that!
So I'm going to leave you to salivate over s'mores, popsicles, and veggies as Day 2 of sneak peeks is in the books! I hope you see something that inspires you to get crafty! I'll have more to share tomorrow, but until then, answer my Question of the Day for a chance to win!
Today's Question of the Day is: What food reminds you of summer?  It could be something I've mentioned above or something else entirely! Leave your comment before Wednesday, June 6th. One comment per person. Each comment will also be entered into our Grand Prize drawing for a $50 gift certificate! Winners will be chosen at random and announced on the TE Blog on Thursday, June 7th.
Today I'm giving away the entire Chill Out collection!
Before you head out, make sure you check out what the rest of the Creative Team has been up to with today's featured products and we'll see you back here tomorrow for more sneak peeks!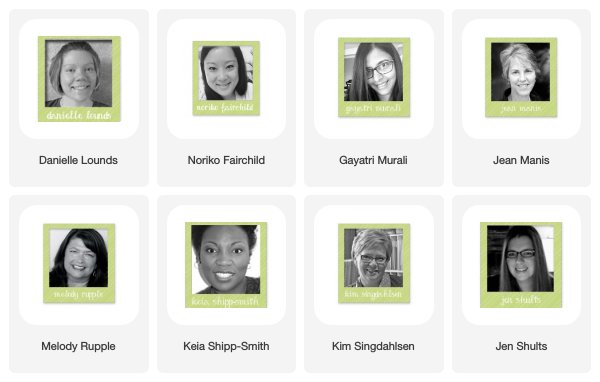 ---