Wednesday, June 06, 2018
Good morning, crafty friends! It's Day 3 of our countdown to the release which means that tomorrow is THE BIG DAY! I hope you've been enjoying the sneak peeks so far! I've had lots of fun reading your responses to my fun little questions each day! There's still a little more time to leave a comment on blog posts earlier in the week and one more chance to win with my last Question of the Day at the bottom of this post. Today, the Creative Team and I will be sharing 4th of July projects and introducing a versatile product line to coordinate with our popular script die series!
Before I dive in, I want to make sure you get another look at our NEW! Liquid Watercolor and make sure you don't miss our double points offer for the June Release. In order to take advantage of our Crafty Points Loyalty Program all you need to do is sign up for an account at the TE webstore and you're automatically enrolled! Then you will receive 1 crafty point for every $1 you spend. Once you've accumulated 20 crafty points you'll receive $1 off a future purchase! With each new release we offer a double points promotion and this month you can earn double crafty points on our Liquid Watercolor Collection!
So when you purchase the Liquid Watercolor Collection between June 7th – 10th you'll earn 134 Crafty Points! So set a reminder for Thursday, June 7th at 9am CDT when all of our new products will be available for purchase at the TE webstore!
So let's get to the reveals for today! It's probably time to start thinking about 4th of July projects and we have some fun new products to add to our collection of 4th of July goodies. Have you noticed the eclipse trend making a comeback lately? Me too! So I decided to use our new Land of the Free stamp that features the lyrics to the song "America the Beautiful" etched into a silhouette of the USA. This image makes a great backdrop for creating an eclipse card and our Caps Lock – USA die is specifically designed to make it easy to achieve perfectly aligned letters as the word is completely connected. Here's a look at the project I created and a quick video with a few tips & tricks for creating eclipse cards:
This card was really simple to make and I love how it turned out! The woodgrain background stamp added just the right touch, and it was the sponging around the outside that added a rustic feel.
We have one more fun stamp set for 4th of July cards (or really anything worth celebrating with fireworks… maybe New Years!?). This one is called Freedom & Fireworks and includes lots of the fun fireworks you see in the background of this card that Keia designed using our previously released Marching On die in the foreground:
If you tuned in for sneak peeks on Monday then you caught a glimpse of our new Aloha Script die! Our script dies are hand-drawn by Creative Team member Jen Shults and continue to be one of our most popular products. In addition to the Aloha Script die, we're releasing one more Script die with this release AND we're revisiting our previously released Script dies with a companion backer for each word! Before I tell you more about the backers, here's a look at the new Sending Script with companion stamp set and Mixed Media backer:
Melody Rupple shows off all three products on this adorable birthday card. Plus, she cut the backer from our new 100% Wool Designer Felt in silver foil (part of the Rock Candy felt pack). The new backer dies are all part of our Mixed Media die collection meaning they have a deeper cut line and the ability to cut through thicker materials like our designer felt, chipboard, leather, vinyl, fabric, and multiple layers of cardstock. Kim Singdahlsen also show off the Sending Script die with the new Chevies Background. I love her creative coloring in the background – such a simple way to call attention to the sentiment!
In addition to the Aloha and Sending backer dies, we also have backers for the previously released Hello, Happy, and Thanks Script dies:
So there you have it! It's been a fun week of sneak peeks and you've officially seen it all! Just a reminder that all of the new products will be available for purchase on Thursday, June 7th at 9am CDT at the TE webstore. In the meantime, there's one more chance to win by answering my Question of the Day.
What's your favorite product that you've seen during this week of sneak peeks (or two or three if you don't want to play favorites!)? I can't wait to see what you love! In exchange for leaving me a comment, you have a chance to win! 
Today I'm giving away the winner's choice of one product from the June Release!
After you leave your comment, head on out to see everything the Creative Team has been up to with today's featured products and we'll see you back here tomorrow when I'll announce the winners of our prizes and share a few more fabulous projects!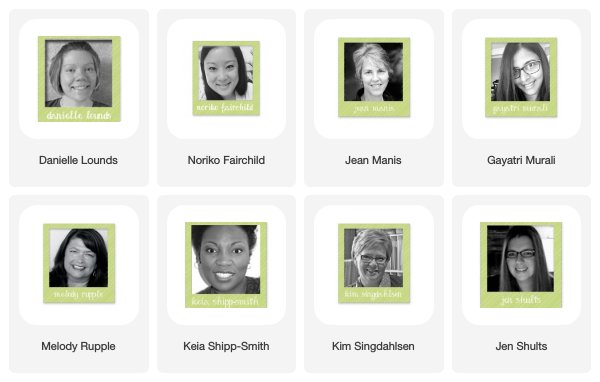 ---