Monday, July 30, 2018
Hey there, crafty friends! While the month hasn't turned over to August *quite* yet, today I'm getting started with sneak peeks for our August Release! It's hard to believe we've already been enjoying two months of summer and in less than a month the kids will be back in school and routine will be in full-swing. I'm looking forward to more routine, but also wishing summer could last just a little bit longer! For the last several weeks, the Creative Team and I have been busy designing projects featuring lots of black and orange! You can probably guess – it's our spookiest release of the year! Altogether we have over 30 new stamps & dies, 2 new cardstock/ink colors, 5 new stencil designs, and some fabulous new foiling products!
I can hardly wait to show you, but before I get started with sneak peeks, I want to make sure you know about our Crafty Points Loyalty Program! For every $1 you spend at the TE webstore you get one crafty point and every 20 crafty points = $1 off a future purchase! With each new release, we have a special promotion where you can earn double points for a specific product or group of products. This month we're offering double points when you purchase our On a Hinge product bundle – a unique way of creating an interactive 'swinging' element on your cards!
When you purchase the On a Hinge Bundle between August 2nd – 5th you'll earn 86 Crafty Points! Mark your calendar now as all of our new products will be available for purchase starting Thursday, August 2nd at 9am CDT at the TE webstore!
So let's started by learning a bit more about our new interactive element – On a Hinge. It all starts with the On a Hinge die and the same On the Right Track Discs that you've come to love for your slider and spinner cards. When the project is complete, the witch legs swing back and forth on the hinge that's hidden underneath the skirt. Take a look at the video below to see exactly how the card above was put together!
That was super easy, right!? I hope you love it as much as I do! And now moving on to another collection of products designed to work together, but with lots of versatility for combining with previously released products or using on their own. Take a look at the card that Kim Singdahlsen designed using the new Bare Trees Background combined with the Tombstone Trio dies and the Tomb Sweet Tomb stamp set:
I love the colors she used for her color-washed background and with all of Liquid Watercolor, there are so many options for creating spooky backdrops for the Bare Trees. Next up, Jean Manis created a simple card and matching envelope using our new Bubble Greetings – Halloween stamp and Spooky Mail set designed for decorating envelopes:
The Bubble Greetings collection is designed to work with our previously released Boxed In Basics for quick and simple cards, but I love how Jean shared a different layout that also features our newest pack of patterned paper – Playful Patterns – Black & White.
These patterns are bold and versatile and can be paired with so many of our stamps and dies, but happen to work great with lots of the new Halloween products. Keep your eyes peeled for these patterns in use throughout this week of sneak peeks! Next up, we have a beautiful shadowbox card by Gayatri Murali featuring our latest addition to the Cutting Edge & Caps Lock collections: Ghosts & Boo!
I mentioned 5 new stencil designs for this release and Jen Shults showcased two of them along with our new Candy Shoppe Shaker and Halloween Shaker Filling on this adorable set of cards!
It's probably no surprise that one of my favorite parts of Halloween is the candy! I love coming up with something new each year to put a different spin on candy giving. This year, we've got a couple options for Halloween themed candy gifts. First, check out the super cute Under Wraps Ghost & Vampire designed to hold a Hershey Nugget or Hershey Miniature candy bar. You also have the option to leave the slits out of the center of the die cut and use the shape to create a tag, garland, or card element! Take a look at Jean's vampire candy wrap and how Kim attached her wraps to a card front:
One more important note about these die sets. I know how much you love our stamp sets that include the coordinating dies, so we decided to offer die sets that include coordinating stamps! These two candy wrap dies each include 3 face stamps to give your vampires and ghosts a little extra personality!
And last but not least (for today!) we're bringing back our popular Potion Bottles with a few accessories to dress them up with a Pick Your Poison label and gift them inside our new carrier designed to fit two bottles perfectly. Check out the cute set that Melody Rupple designed:
Whew…was that enough for one day!? I hope you like everything you've seen today, but I can't stop quite yet! I want to show you the two new colors joining our collection this month. Say hello and welcome to Sweet Potato Pie & Eggplant! Both of these new colors are available in cardstock, full size ink pads, mini ink pads, and ink refills!
Before I head out, I want to give you an opportunity to win it before you can buy it, by answering my question of the day!
My Question of the Day is: What is your favorite Halloween costume that you remember wearing as a child? Leave your comment before Wednesday, August 1st. One comment per person. Each comment will also be entered into our Grand Prize drawing for a $50 gift certificate! Winners will be chosen at random and announced on the TE Blog on Thursday, August 2nd.
Today I'm giving away your choice of Under Wraps – Vampire or Ghost PLUS a package of Hershey Miniature candy bars!
Make sure you check out what the rest of the Creative Team has been up to with today's featured products and we'll see you back here tomorrow for more sneak peeks!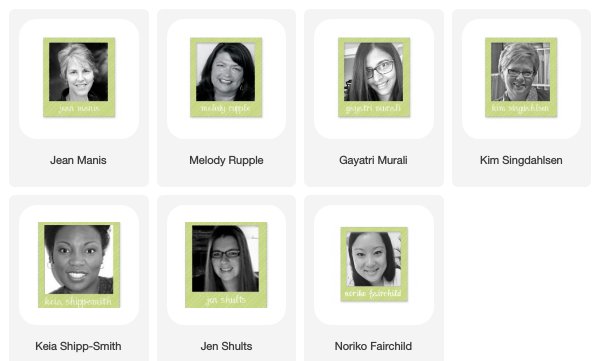 ---