Tuesday, August 07, 2018
Hello, crafty friends! I hope you all had a wonderful weekend! Anyone have plans to be at the Stampaway USA show in Cincinnati this week!? The team and I head out on the road tomorrow and we can't wait to see you there! Come see me! We're in the hallway RIGHT inside the front door so you can't miss us!
Now that the August release products are in the shop, I wanted to take a closer look at our two newest ink and cardstock colors—Sweet Potato Pie and Eggplant. I know it's always nice to see the colors in comparison to color already in the TE color family, so I have Sweet Potato Pie compared to two other oranges and Eggplant to two other purples.
Let's start with the oranges.
Left to Right: Candy Corn, Sweet Potato Pie (new), Pumpkin
Sweet Potato Pie is a darker orange than Candy Corn but is not as dark or have as much red in the formuation as Pumpkin.
Now for the purples.
Left to Right: Plum Punch, Jelly Donut, Eggplant (new)
Eggplant is the darkest blue-violet in the TE color family. Jelly Donut is a medium blue-violet and Plum Punch has a little more pink to give it a magenta color.
If you're in need of jumping off point with these new colors, I've put together a free color chart that you can download and print as an easy reference while you're crafting.
Both of our new colors will be great for the Halloween cards I've been in the mood to start on – so I thought it would be perfect to see Jean Manis work her magic with two these color combinations on some Halloween-themed inspiration:
For the Halloween card featuring Sweet Potato Pie (left), Jean combined Pineapple, Earl Grey, and Cookie Monster with Sweet Potato Pie.
Start by stamping the background in Sweet Potato Pie with the Bare Trees Background stamp onto Sweet Potato Pie cardstock. Then add the spooky house cut with the 13 Dead End Drive die from Earl Grey cardstock (inlaying the Pineapple and Cookie Monster cardstock). To complete the scene, Jean added bats from the Haunted Accessories die set. For the sentiment, Jean inked one of the sentiments from the Boo to You stamp set with VersaMark ink followed by Earl Grey ink and heat-embossed with TE Fine Detail Embossing Powder – Clear.
For her second Halloween card, Jean combined the new Eggplant with Pineapple, Blue Raspberry, and Earl Grey.
Start by cutting the Haunted Cutting Plate with Eggplant cardstock and then back the windows with Pineapple and Earl Grey cardstock. The moon was cut from Pineapple cardstock and added behind the tree and a Sugar Cube ghost die cut from the Haunted Accessories set. The Cookie Monster background was added to the back of the Haunted Cutting Plate frame and adhered to a Pineapple card base. To complete the scene, add a couple tombstones die cut from Earl Grey cardstock and stamped with sentiments from the Tomb Sweet Tomb stamp set.
Using the same technique as before, Jean inked one of the sentiments from Boo to You with VersaMark ink followed by Eggplant ink and heat-embossed with TE Fine Detail Embossing Powder – Clear.
I hope you've enjoyed this quick introduction to the two new Taylored Expressions colors—Sweet Potato Pie and Eggplant—and that the ideas shown have inspired you to get pull out your Halloween- and fall-themed supplies and get crafty! Thanks for stopping by today!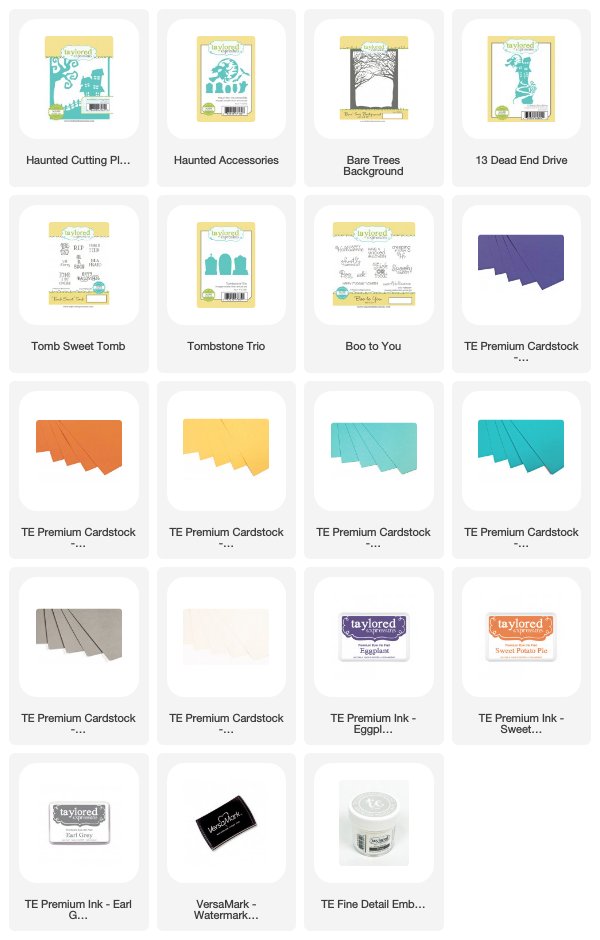 ---