Tuesday, September 04, 2018
Can you believe it's been 10 years? Thousands of products, thousands of card designs, thousands of blog posts, thousands of orders. It's all very surreal when I think about it in terms of numbers. However, the journey of Taylored Expressions can't simply be measured in numbers. For me, it's measured in relationships; friendships with so many people I wouldn't otherwise have had the opportunity to connect with through this shared love of stamping. I've been able to share a piece of myself and have been so blessed by your encouragement and your connection with our mission to Share Joy! My sincere thanks to you in whatever role you've placed in the journey of Taylored Expressions! Here's to the next 10!
We're celebrating our 10th Birthday with a Mini Release – Mega Party! With our new 'every other month' release schedule, September is typically an off-month, but it wouldn't be a proper 10th birthday celebration with a few new products! So tonight (as in, RIGHT NOW) we're launching our Mini Release of 14 new products all designed to create fabulous birthday cards! It's not much of a party without presents, but at this party, the presents are for you! Before we get to the goodies, I want to make sure you all know about the party favors we're including with orders placed during our birthday celebration:
All orders placed will receive a special birthday party blower with a coupon attached for a future discount or free product with your next TE order! Plus, orders over $50 will receive our 10th Birthday Party Favor that includes 6 dies! Party favors ship with orders through September 9th.
So now that you know about all of the festivities surrounding our birthday celebration, should we get to the new goodies? Here's a look at all 14 of them (with individual clickable links) and I'll follow up farther down with a closer look at each product and inspiration from our truly amazing Creative Team!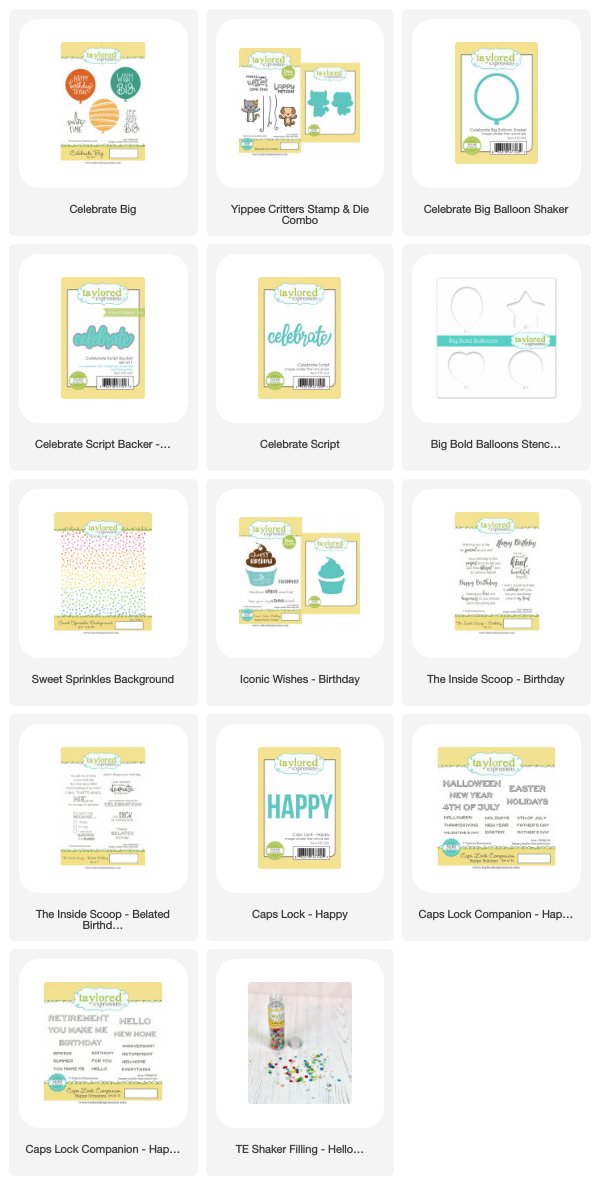 First, we have a grouping of fun balloon themed products with oversized balloon stamps, a coordinating shaker element, and a couple cute little critters to hold the balloons! I used all three products on this card along with beads from our recently released Halloween bead mix to fill the Plum Punch balloon. And I think this could be one of my favorite new color combinations; Mint Julep, Plum Punch, and Blue Raspberry!
You can also see how Kim Singdahlsen used the balloons without the critters on this adorable shaker card. She filled her shaker with the new Hello Sunshine Shaker Filling designed to coordinate with our Hello Sunshine patterned paper.
Next up, we're adding to our popular Caps Lock collection with the Caps Lock Happy die and two companion stamp sets to stretch the use of the word 'happy' for lots of occasions and holidays! Here's how Kim Singdahlsen used two of these products to create this sweet and simple birthday card:
This will be the only non-birthday card you'll see during this release, but Keia brilliantly shows off the Caps Lock – Happy die with the Holidays Companion stamp set on this amazing New Year card:
OK – so you know what I love? Balloons! So I have more of them! You know what I don't love? Balloons being popped. Hate it! But let's not focus on that. Let's focus on the shiny, floaty goodness of a big balloon. I used the new Big Bold Balloons stencil to create this card also featuring our new Celebrate Script & coordinating Backer die:
Noriko incorporated the Yippee Critters Stamp & Die Combo that I shared above with our new Sprinkles Background & Iconic Wishes – Birthday. Her interactive card with the critter popping out of the cupcake is genius! Note: the Iconic Wishes stamp & die combo was a free giveaway during last year's birthday celebration so you might want to check your stash to see if you already have it!
Nothing's worse than finishing the most amazing birthday card and then having NOTHING to put on the inside! We're solving that problem with our new Inside Scoop Birthday & Belated Birthday sets. So whether you're right on time or a little late, you'll have the perfect thing to say!
So there you have it – our 10th Birthday Mini Release! I hope you see something that puts you in the mood to celebrate! We'll be celebrating over here at the Taylored Expressions warehouse (and by celebrating, I mean, picking and packing orders as fast as we can!). I hope you'll pop in tomorrow when over 47 past and present TE designers will be joining us for the Mega Party part of our celebration! In the meantime, check out more inspiration from our Creative Team using products from our birthday release: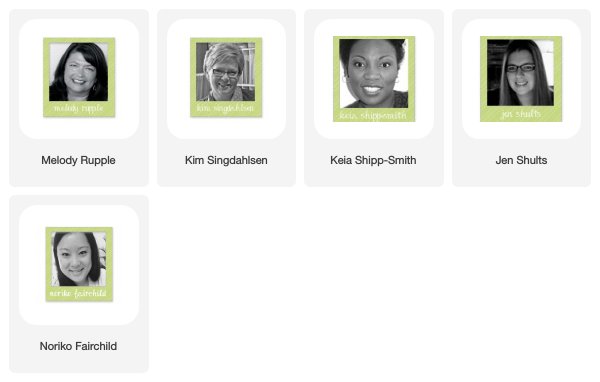 ---