Monday, October 01, 2018
Good morning, crafty friends! Today marks the start of sneak peeks for our holiday-themed release and it's truly the most wonderful time of the year! We've spent months curating a collection of products designed to make your Christmas crafting both fun and festive and now we get to spend the next several days exploring the infinite possibilities for a handcrafted Christmas! I can hardly wait! But before I get too far, there are a few details you'll want to know:
There are over 40 new products including stamps, dies, stencils, ink, cardstock, and other supply accessories
Each day of sneak peeks has a theme – Monday = the reason for the season, Tuesday = a cutesy Christmas Wednesday = a rustic holiday
Each day will feature at least one how-to video
Get a chance to win it before you can buy it by commenting with your answer to my Question of the Day (located at the bottom of each sneak peek blog post)
Last but certainly not least – don't miss our double-points promotion for the October Release (details below):
Christmas is a time when we often mass-produce cards to send to loved ones and there's no better way to quickly create a stack of beautiful cards than with a background stamp! Our October Release includes 4 beautiful backgrounds and our talented creative team will be sharing card sets along with tips and tricks for mass-production throughout the week! When you purchase the Big Background Bundle between October 4th – October 7th, you'll earn 120 Crafty Points! Mark your calendar now as all of our new products will be available for purchase starting Thursday, October 4th at 9am CDT at the TE webstore!
So let's get started with my first set of mass-produced Christmas cards! I enjoy sending cards that feature the reason for the season and we have so many beautiful faith-based Christmas products in our collection. To add to our vast collection of faith-based Christmas, we decided to explore the simple beauty of the manger. This set features our new Little Bits – Manger die along with the Let Us Adore Him stamp set.
The finished image on these cards was designed as two separate stamps to allow for the variation in color. I've recorded a video tutorial with some of my own tips and tricks for mass-producing these cards, plus there's an option to "step it up" by embossing the words & background and layering the stitched oval with our new coordinating Petite Scalloped Ovals. Check out the video below: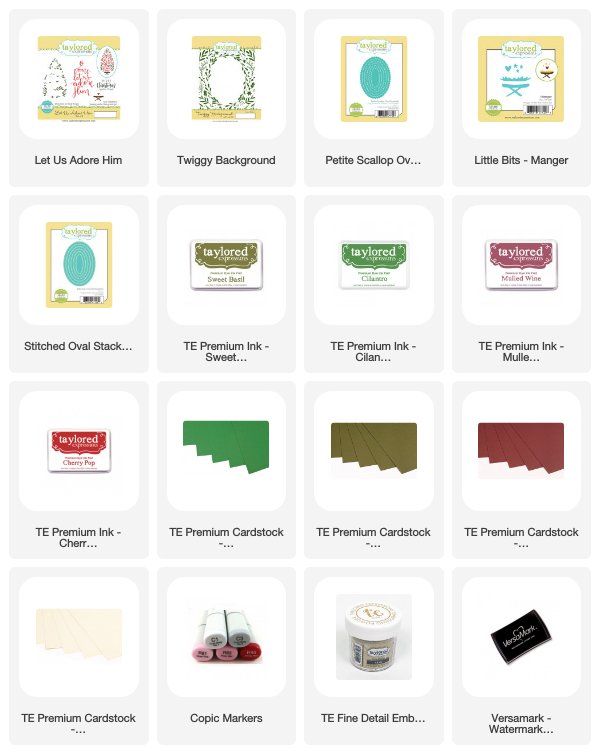 I also used the Little Bits – Manger in combination with our new Handlettered Holiday sentiments for this simple card below. I LOVE creating color gradient backgrounds with our inks – they blend so smoothly! For the glittered north star, I cut the largest star in the Little Bits – North Star die set from a scrap of paper and used the negative die cut as a stencil to apply the gold glimmer paste. The card base needed a little something extra so I stamped the Woodgrain Background tone on tone (Toffee ink & cardstock) and then distressed the edges with Chocolate Truffle ink.
These handlettered phrases go with so many different styles so you'll be seeing a lot of them throughout sneak peeks! Here's another set of Handlettered Holiday cards designed by Jen Shults. She paired the sentiments with our new Blooming Holiday Cutting Plate on these gorgeous cards!
Keia Shipp-Smith grabbed the same Blooming Holiday Cutting Plate to show off the new Words of Faith – Christmas stamp set. Paired with the previously released Holiday Florals, this makes a gorgeous card:
Be on the lookout during sneak peeks for decorated 'insides' with our new Inside Scoop – Christmas Blessings set. With sentiments designed to coordinate with so many of our Christmas stamps and dies, this will be a much-loved set in my personal collection!
Gayatri Murali shows off our new toner-printed Foil It – Christmas sentiments along with our new Petite Scalloped Circles to create this beautiful ornament. My new motto: foil all the things!
Gayatri was on a roll with the ornaments as you can see by the merry and bright Big Ornament card she also designed! She used our liquid watercolor with the smooshing technique, dried the area, and then highlighted select details with more intense watercolor.
Next up, I'm sharing some sugary goodness with the most adorable gingerbread man and gingerbread woman! Complete with dress-up clothes, this cute little guy and gal can adorn your cards, gift tags, and garland, or use them to create adorable felt ornaments. Lots of ideas from our amazing Creative Team!
And last, but not least, I'm SUPER excited about our new Gift Card Popup die! I'll have a video on Thursday to show you exactly how this goes together (it's super easy!), but you'll be seeing it throughout sneak peeks so I wanted to share a little bit about it today. It's sized to fit any standard gift card and it can be popped up on both a vertical card (stretching all the way to the edge of an A2 size) or a horizontal card (not filling the entire width of the card). Here's a look at both the packaging file and the product in action:
We also have THREE new additions to our color collection this month which includes both ink and cardstock in the beautiful shades of Cilantro, Blueberry, and Sea Salt! Keep your eyes peeled for the bold colors of Cilantro and Blueberry and the subtle beauty of Sea Salt throughout sneak peek week! Note: Sea Salt is a Hybrid formulation which makes it both Copic compatible and waterproof!
That's it for today's new product features, but before I head out, I want to give you an opportunity to win it before you can buy it, by answering my question of the day!
My Question of the Day is: What Christmas song are you most likely to sing along to? What Christmas song makes you cringe when you hear it? Leave your comment before Wednesday, October 3rd. One comment per person. Each comment will also be entered into our Grand Prize drawing for a $50 gift certificate! Winners will be chosen at random and announced on the TE Blog on Thursday, October 4th.
Today I'm giving away Let Us Adore Him & Little Bits – Manger!
Make sure you check out what the rest of the Creative Team has been up to with today's featured products and we'll see you back here tomorrow for more sneak peeks!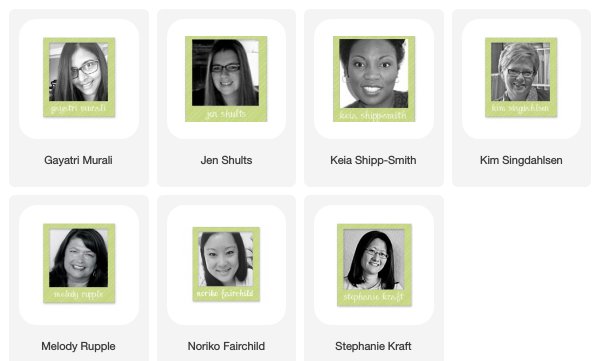 ---