Tuesday, October 02, 2018
Hellllooooo crafty friends! It's Day 2 of sneak peeks for our Christmas release! Yesterday I kicked it off with our faith-based Christmas collection and today's stamps and dies will add a touch of cutesy to the occasion. We have additions to the Bubble Greetings collection, a new script word die, warm-weather Santa & friends, a Scandinavian Christmas, and my personal favorite, On a Hinge – Merry, an extension of our interactive hinge concept!
Before I share all the goodies, I want to mention our special double points promotion one more time. All week we're featuring four incredible background stamps along with tips and tricks for mass-producing your holiday cards. For a limited time, you can earn DOUBLE CRAFTY POINTS on our Big Background Bundle which includes all 4 of our new holiday backgrounds!
If you're not a Crafty Points member yet, it's free and easy to join. Just create an account at the TE webstore and you're automatically enrolled to begin earning crafty points with every purchase. With the purchase of the Big Background Bundle between October 4th – October 7th, you'll earn 120 Crafty Points!
As I mentioned above, I'm super excited about the newest addition to our On a Hinge concept! Remember our Halloween themed introduction with the witch legs that swing back and forth? Well, what would be more perfect for the holidays than swinging Santa legs!? Here's my project featuring Santa trying to get down the chimney.
I've used several new products including two of our newest stencils (Brick by Brick on the chimney & Snow Flurry in the background), the On a Hinge stamp set and coordinating dies, and the Simply Said – Christmas sentiment set (for the Merry Christmas sentiment):
In the video below, I'll walk you through how to put together the hinge mechanism to create the swinging legs. Once you see how it's done it's quite easy to accomplish. The hinge can be hidden behind Santa's coat if you want to feature the entire outfit, or behind a chimney, or coming down the fireplace!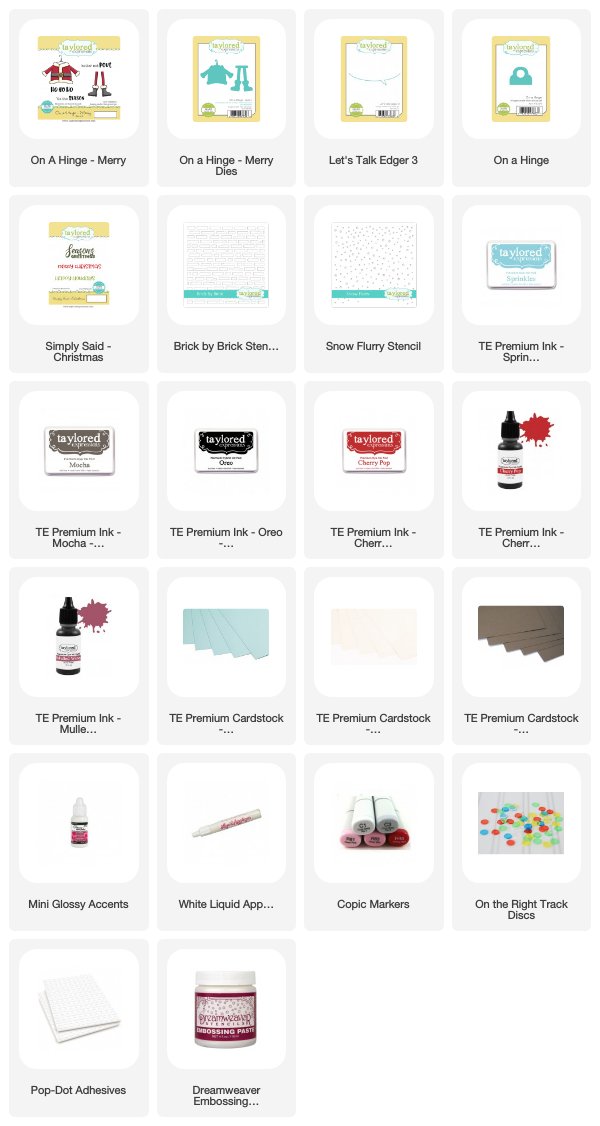 Kim Singdahlsen used both Santa's coat and legs on this adorable card! There are so many fun possibilities for this interactive element and the recipient of your card will certainly be impressed!
Up next on the list is our warm-weather Santa & his fla-la-la-la-la-la-la-lamingo friends! He's wishing us all Sea Sands Greetings from his cabana underneath the palms. Do you celebrate a white Christmas? If not, this set is a must-have! If so, this set is still a must-have! We all need that reminder of warmer temps during the latest swirling blizzard!
Both Steph and Gayatri created the most adorable warm-weather scenes on their cards featuring Sea, Sand, Santa & Pink Christmas! Both of them also featured the new Build a Scene – Snow Drifts which apparently double as sand dunes!
Now that we're all dreaming of a pink Christmas, let's switch it up and visit a cold-weather climate for Christmas in Scandinavia. We have the most beautiful Scandinavian Background in this month's release and it's perfect for mass-producing an adorable card like this one by Kim Singdahlsen:
Jen Shults also got into the Nordic spirit of Christmas with this beautiful card featuring our new Nordic Snowflake stencil paired with silver glimmer paste and our new Blueberry Cardstock!
Both Jen & Kim featured our new Merry Script die and Jen also used the Merry Script backer and the Make It Merry companion stamp set. Love, love, love the script dies!
Next we're going to get into the Holiday Spirits – yep, the wine & cocktails – with our next few projects. Noriko showcases the new Peace, Love, & Cocktails stamp & coordinating dies just perfectly in this colorful card:
And Melody Rupple paired our previously released wine-loving Sarcasti-chick and Wine Bottle Tag with the new Holiday Spirits sentiment to create this fun hostess gift set:
Last, but certainly not least, we're adding to our popular collection of Bubble Greetings stamps and Boxed In backgrounds. Our pre-printed backgrounds are sized perfectly for an A2 card and they're toner printed so they can also be foiled! Here's a look at a few projects from Jen Shults & Kim Singdahlsen featuring Bubble Greetings & the Boxed In backgrounds:
So there you have it – that's it for today's new product features! Before I head out, I want to give you another opportunity to win it before you can buy it, by answering my question of the day!
My Question of the Day is: What's your preference – White Christmas or Pink Christmas? Snowy Santa or Sandy Santa? Leave your comment before Wednesday, October 3rd. One comment per person. Each comment will also be entered into our Grand Prize drawing for a $50 gift certificate! Winners will be chosen at random and announced on the TE Blog on Thursday, October 4th.
Today I'm giving away On A Hinge – Merry + Coordinating Dies!
Make sure you check out what the rest of the Creative Team has been up to with today's featured products and we'll see you back here tomorrow for more sneak peeks!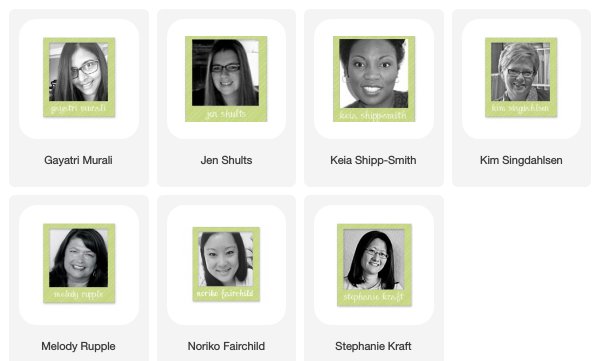 ---