Wednesday, October 03, 2018
Hey there, crafty friends! It's our last day of sneak peeks before all of the new products are available for purchase at the TE webstore so set your alarm for 9am Central time tomorrow! If you're already diving into holiday trends, then you've probably seen the explosion of rustic, farmhouse holiday decor including ornaments, dishes, and everything in between. Today we're exploring these trends with new stamps and dies, so if you love buffalo plaid, woodland silhouettes, and rustic pine boughs then you're bound to find something you love!
Before I head over the river and through the woods and into today's sneak peeks, I want to remind you one more time about our double-points offer. All week the Creative Team has been featuring tips and tricks for mass-producing your Christmas cards using the four incredible background stamps that are new with the October Release. For a limited time, you can earn DOUBLE CRAFTY POINTS on our Big Background Bundle which includes all 4 of our new holiday backgrounds!
If you're not a Crafty Points member yet, it's free and easy to join. Just create an account at the TE webstore and you're automatically enrolled to begin earning crafty points with every purchase. With the purchase of the Big Background Bundle between October 4th – October 7th, you'll earn 120 Crafty Points!
It's a woodland winter complete with cozy plaid and I incorporated my new motto into the set of cards that I created today. What's my new motto, you ask? Foil ALL the things! Here's a look at my cards that feature a gold foiled stag bust:
The Buffalo Plaid makes the perfect backdrop and looks amazing stamped in black onto many different colors. Foiling the stags is made easy by die cutting them from Peel n Stick Toner Paper. I recorded a quick video with a few tips and tricks for creating these two cards and here's a look at the new products I used on these cards: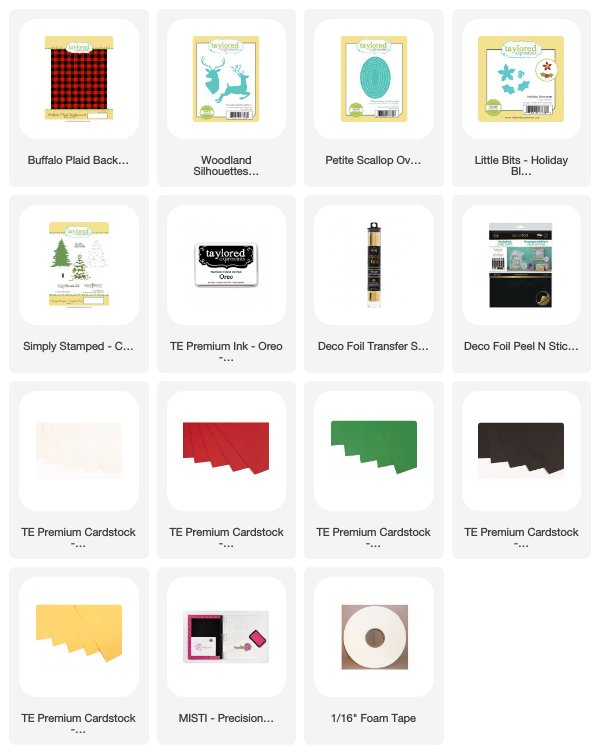 I used our second Woodland Silhouettes die set featuring a moose and a bear along with the new Pine Bough Background and the Buffalo Plaid Background to create this card:
I used Sea Salt ink (a very light grey) to stamp the Pine Bough Background and then I watercolored over the image with Peapod Liquid Watercolor using the stamped image as a guide for my painting. Here's a look at Woodland Silhouettes 2, Pine Bough Background, and the Build a Scene – Snow Drifts die set that were used on this card along with the Buffalo Plaid Background that was shown above:
The Creative Team really outdid themselves with these products so I have a few more combinations that *must* be shared! Keia designed these gorgeous cards featuring the Buffalo Plaid in striking color combinations along with sentiments from the Handlettered Holiday stamp set shown earlier this week and our Holiday Florals set from last year's holiday release.
Gayatri combined the Pine Bough Background with our new On the Road – Station Wagon to create this beautiful card. Can't you just imagine this station wagon coming over the river and through the woods after a successful trip to pick out the family tree!?
Speaking of trees, evergreens are one of the most majestic images of Christmas and the winter season. Next up we have the Cutting Edge – Trees Stamp & Die Combo that Melody paired beautifully with the new Build a Scene – Snow Drifts:
Stephanie Kraft also featured a tree in this adorable set of tags using the new Flip the Script – Tree Stamp & Die Combo. Our new Flip the Script series includes both the positive and negative of the sentiment for even more versatility!
Last, but not least, Jen Shults rounds out our sneak peeks with another set of tags, this time featuring Flip the Script – Snowman (and of course, more Buffalo Plaid!):
And there you have it – all of the stamps and dies from our October Release! Can you handle any more!? I hope so because I have a few more exciting new supply items to share with you!
The left and middle photos feature our new Cleaning Cloth and Stamper's Spritz stamp cleaner! Our micro-suede cleaning cloth is the perfect way to get your stamps squeaky clean with adorable style! Use in combination with Stamper's Spritz to clean even the most stubborn stains. For added convenience, use the attached ring to hang this snarky Grumpling within easy reach of your stamping spot. Quick intro video below! The photo on the right features our newest embossing powder called Diamond that will add the most radiant clear sparkle to every image you emboss!
Thanks so much for tuning in for sneak peeks this week! I'm so excited about our Christmas collection and I hope you've seen something to inspire your handmade holiday! Before you head out, I have one more chance to win it before you can buy it by answering my Question of the Day, and our amazingly talented Creative Team has more projects to share on their blogs too!
My Question of the Day is: What is your favorite outdoor activity at Christmastime? Leave your comment before Wednesday, October 3rd. One comment per person. Each comment will also be entered into our Grand Prize drawing for a $50 gift certificate! Winners will be chosen at random and announced on the TE Blog on Thursday, October 4th.
Today I'm giving away the Buffalo Plaid Background!
Make sure you check out what the rest of the Creative Team has been up to with today's featured products and we'll see you back here tomorrow when all of the new products go live at 9am Central!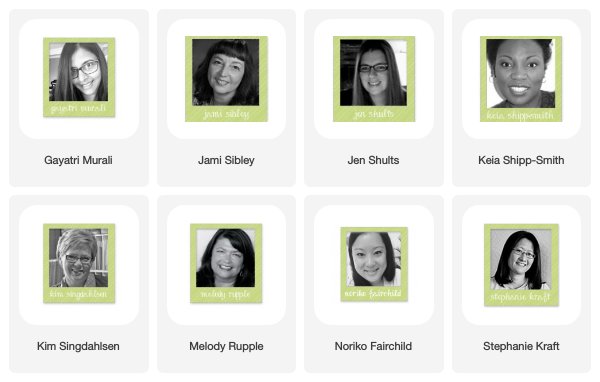 ---